Save Those Coins Huntyy!
Money getting lower and bills are piling up? Not afraid to risk it all, to get the job done? Well, baby, this is for you! Lets "X" some things off and make room for more important things for our money to go towards.
Trash bags: Use grocery bags! Everyone goes grocery shopping and some stores have better quality than others but hey, it gets the job done! My personal favorite way to get trash bags is to take the rolls of trash bags from work and or school. Yes, you heard me right. Often times janitors leave the trash bag rolls on the bottom so they do not have to keep going back and forth. (But you didn't hear it from me)
Buying shoes: The only shoes you need is a good pair of heels, preferably black, that goes with every clubbing outfit, sneakers to go to the gym, flats (brown & black) and depending on where you are, some good snow boots.
Hair products: go on youtube and learn how to make your own hair care products with things you probably already have in your kitchen. Boom. You save $20.
Jeans: just buy multiple black leggings. They're easy to find, easy to wash and so much cheaper than a pair of Levi jeans
Water: if you're on a tight budget you better get acquainted with tap water. (Obviously, make sure that the water in your city is drinkable) Desperate times call for desperate measures my friends.
Underwear: do you really need too much underwear ladies? We need like 5 "Period" undies, 7 normal panties that you can wash and change through the week and 3 "Freak" panties for when you trying to get some. If your boo wants to see more different underwear then tell them to buy it for you ;p
Cable: Netflix, Hulu, HBO, Apple Tv is all you need my dear. Anything you can find on cable is now accessible online for less and more convenient for you.
Printer paper: If you have things that you need to be printed, go get them printed at school if they offer free printing or print them at your job! I have downloaded and printed mad sh*t at my job with no problem. Why use your money if you can use theirs? OKURR Tip: always run to the printer before someone else does because you do not want your manager to see you printing job applications while on work hours.
Baby clothes: This is for people with big families; ask the members of our family if they have gently used clothing for your baby! I have a cousin who has 5 boys, all older than my 2-year-old. That means my baby going to be getting a lot of hands me downs which is a blessing!
Office/school supplies: If you work in an office, chances are they have a whole closet dedicated to supplies. These include pens, notebooks, markers, pencils, notebooks and so forth. They probably not paying you enough anyway to f*ck em! Help yourself! I remember I took some double A batteries for my vibrator *insert long blissful sigh* and No I don't regret it 😀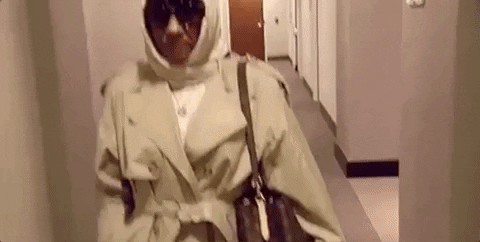 What are some ways you save money? List them below! Don't be ashamed!!
Disclaimer: I am not responsible for anything!!
Peace, Love & Melanin
-The Brown mom