*This post may be a trigger*
Hey guys, today I'm coming with a topic that is very close to my heart. I am a sexual abuse survivor. I was molested from the age of 7 to 14 years of age by my uncle (by marriage). Sexual abuse is nothing to be taken lightly because the after effects of this trauma can ruin lives and even take lives. I have never been vocal about my abuse and I will fully share my story soon but not now. I have been on a self-healing journey for quite some time now and I want to share how I healed from this traumatic experience. It is a process but one worth taking nonetheless. I no longer carry the guilt, hurt and anger from that experience and it such a good feeling. I know there are people who are struggling with moving forward, and this post is for you.
1.Make sure you're safe: Get away from the abuser if you are living in the same building. Stay far away from the person as much as you can. If you know the person will be at a family event, do not go there.

"You cannot heal if your abuser is constantly around you"
2. Get Justice: Speak up & Speak Out. You have to. Whether it be by yourself or with some support from someone else, you need to report this person. If this person hurts you, they could go and hurt someone else to. Speaking up is the first part of getting the ball rolling. It took me 7 Seven years to finally say something. A long time yes, but I did. It was one of the hardest things I have ever had to do.
It is okay if you need time to do because its easier said then done but it something that is essential to your healing process.
3. Brace yourself: Prepare yourself for the backlash you will be getting for speaking out. People will judge you, talk about you, accuse you, bring you down and start all over again. Mentally prepare yourself. People will always have opinions of you no matter if you're doing good or bad. If you're getting drowned by negativity from people make sure you are moving these people out of your life ASAP. One of my biggest mistakes was keeping people around that meant no good to me at this very time. During this trial, you will be extra vulnerable so you have to protect your peace at all times.
According to preliminary findings by Black Women's Blueprint, "60% of black girls experience sexual assault… by the time they reach 18" (Black Women's Blueprint, n.d.) and for every black woman that reports her sexual assault there are at least 15 black women who do not  report their experiences of abuse (Bureau of Justice Statistics, 2010)
4. Therapy: Something else I regret not doing as soon as possible. I was embarrassed to go to therapy because was my family was talking shit about it. Little did I know that going to therapy could've saved me from going through a great deal of emotion/mental hurt down the line in my life. PLEASE SEEK PROFESSIONAL HELP. You will need it. My life spiraled down because I was in a state of confusion and this has gone for years, adding more and more baggage. There is nothing to be afraid of, it is kind of weird at first but you will thank yourself later.
5. Avoid the guilt trip: It is common for those victims of sexual abuse to blame themselves for what happened. It is not your fault, the abuser knew what they were doing.
None of this is your fault so don't go blaming yourself for that.
6. Forgive: When I say forgive I don't mean go holding hands and start chilling with your abuser. No. But you have to acknowledge what happened. Holding a grudge and so much anger can be very detrimental to your overall health. Do not let that person have so much power over you that you cannot move on and experience the goodness life has to offer. (you do have the right to feel that way)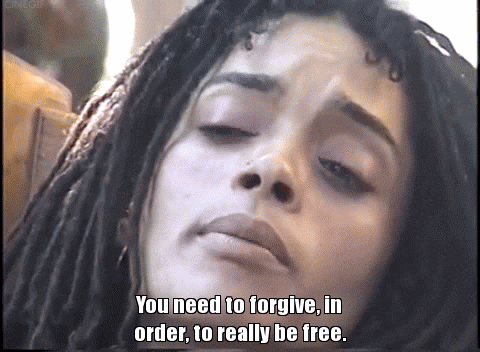 Peace, Love & Melanin
-The Brown Mom